"5 Web trends you can't afford to ignore: Next Step
reveals how changing user habits affects business."
Trend #1: Mobile use outpacing desktop.
By the end of 2014, it's estimated that mobile usage will surpass desktop. Consumers interacting with your content by phone or tablet and their expectations are high: 85% of adults thinking that a company's mobile site should be as good or better than their desktop website.
What it means for you: Businesses who fail to make it easy for mobile consumers will be left behind. Consumers expect to be able to easily interact with your site, whether it's on a phone, tablet or desktop computer. According to a survey by Google, 48% of users said that if a site didn't work well on their phone, it make them feel like the company "didn't care about their business." Responsive Design is the #1 key to providing a good user-experience.
3 reasons why Responsive Design has become the new standard for the web:
Easier sales. 67% of users are more likely to make a purchase with a smart phone on a mobile-friendly site than non-mobile optimized.
Better SEO. Responsive sites show up on search results. Google highly recommends Responsive Design, especially when targeting mobile users who are searching for local services.
Keeps users from clicking away. If your mobile site's content is too pared down or dissimilar from the desktop version, consumers won't find what they're looking for. Each time they click away, your ranking suffers. A responsively designed site keeps visitors on the page by presenting the same content found on your desktop site, but in a format optimized for the phone's smaller screen.
Key Takeaway: Go Responsive or Go Home.
See this trend in action
Visit hellonextstep.com on your Mobile | Tablet



Trend #2: Relying on images for info.
In this digital world, people are constantly logged in, inter-connected, and consuming massive amounts of information. As consumers are subjected to an increasing number of advertisements, their attention spans wane. It's much more challenging to capture their interest before they move on.
What it means for you:
Images get you inside, faster. Business need to connect with their clients emotionally. An image-centric design uses big, high quality images to pull people in. Images let you quickly relay your content in a visceral way. Think massive background images. Think instant story telling. Images don't replace text, but they let you show first, tell later.
See this trend in action
Infographics on the rise. Most people tend to be visual learners, so tying an image with text will help them remember it faster. This is also why infographics have become increasingly popular. By combining large images with minimal text, business can quickly explain a topic and relay statistics or data from research studies.
Key Takeaway: Show, then tell. Big images connect your ideas to audiences.
See this trend in action
We used Infographics to communicate why participants should register for the 2014 Open Networking Summit Conference.
opennetsummit.org/who-attends.html
Trend #3: Using videos to tell better stories.
If big images help connect ideas to audiences, then moving images take it one step further. In addition to being visual learners, as a species we are still addicted to a good story.
What it means for you: Today's media-rich capabilities let businesses cater to people's senses. It's easier for most people to learn by watching. And, as with images, it's a more effective way to connect emotionally. Instead of forcing users to read a lengthy, complex text, videos allow companies to tell their story, explain how a product works or provide directions.

Considered to be 2014's most powerful form of content, video provides an engaging and entertaining experience that audiences are much more willing to interact with. Note that some readers will still prefer to skim through text (with headings for longer blocks of text, of course). Be sure to consider including an alternate text version.
3 reasons why video is one of 2014's top web strategies
Easy & effective. Videos are becoming easier to produce and share.
Social media loves video. According to research by Moz, of the top 50 most-shared pieces of content on social media, 48% were video, and 24% were image-based.
Trackable. You can see how many views your video got. Knowing what resonates helps you optimize your business' online strategy.
Key Takeaway: Videos go viral.
See this trend in action
To make the case for why founders should choose Algentis as their HR Platform, we used video testimonials from their well-known startup clients.
algentis.com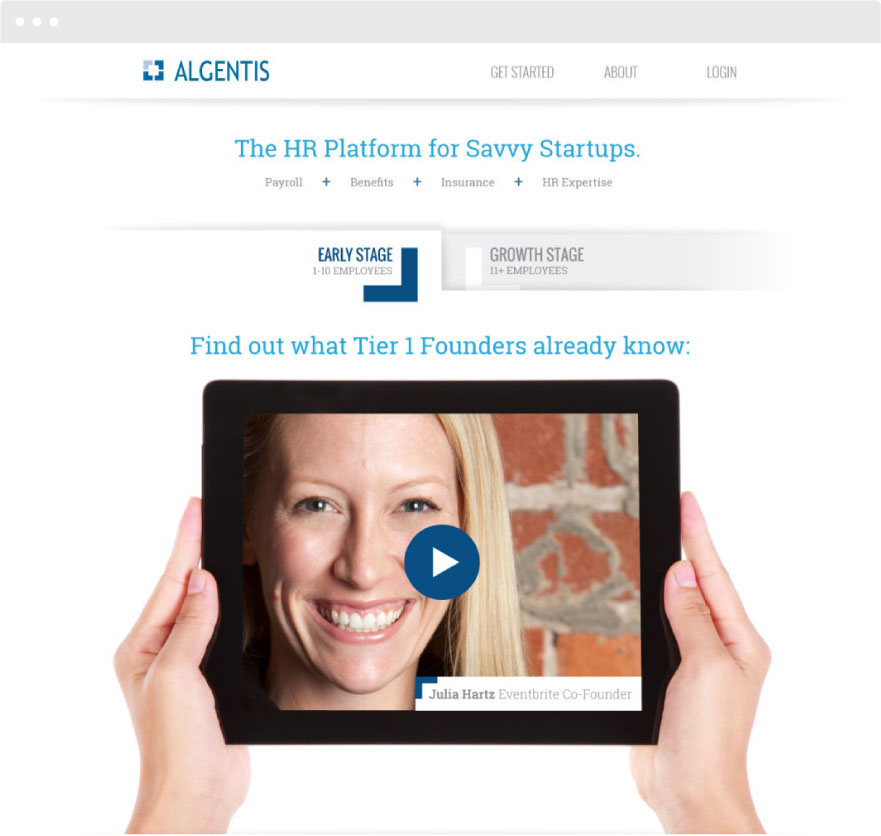 Trend #4: Simplified content.
There's a noticeable shift in consumer preference away from in-depth messages. Today's over-stimulated, over-scheduled consumer responds better to simplistic marketing messages.
What it means for you: Simplified content means short bursts of content. This minimalist approach helps business' focus on the user by enabling consumers to take things one step at a time.
How the Minimalist trend shows up online:
250 Characters. With the exception of blog posts and white papers, most areas on websites have around 250 characters. Think Twitter feeds, or headlines with brief, bulleted text underneath.
Minimalist Navigation. Similar to the condensed navigation for mobile, minimalist navigation focuses on icons, roll-downs, and navigation that shrinks as you start to scroll down the page.
Headlines. People scan, looking for relevant information. These anchor points help readers quickly get the main points. Search engines also use them for ranking, so be sure they're both useful and keyword-rich.
Simple, on-target messaging. You don't have the luxury of 1,000 words to express yourself. Consumers simply don't have patience for long text. You have to get to the point, fast.
Key Takeaway: Less is more, but make it count.
See this trend in action
Instead of long paragraphs of text we opted for a simple headline, targeted keywords and icons to communicate our capabilities.
hellonextstep.com/capabilities.html
Trend #5: Users scroll for information.
Before the mobile revolution, business were forced to "fit it all above the fold" or risk having valuable information disappear from readers' radars. Since the explosion in smartphones and social media, consumers have dramatically changed the way they consume content.
What it means for you: The more your customers use mobile to browse the web, the more they're accustomed to vertical scrolling. Thanks to thousands of hours on social media users understand the UI behind long scrolling pages and have come to expect this experience elsewhere. Business need to recreate a browsing experience that feels familiar to visitors.
Benefits of infinite scrolling:
Well organized content. There's lots of spacing between elements, larger fonts, larger images. There's minimal, but engaging, copy that drives users onward.
Greater content exposure. Scrolling offers users a simple way to navigate your site. With everything on one page, users don't have to flip between various pages to find content.
Instant access. Users won't have to wait for pages to load. Regardless of the device being used, it's quicker to load one long page than to load many pages.
Key Takeaway: Less is more, but make it count.
See this trend in action
We walk users through the steps of reaching their final goal:
Envision what their company's new website can make possible.
Understand which capabilities are needed to get there.
See how other clients like them have been helped.
Contact us to the take the next step.
Final Note:
Meeting consumers' evolving demands means helping them have a seamless experience across multiple platforms and letting them consume content more quickly and emotionally. To learn more about integrating any of these 5 trends into your business, contact us.