Science of Design Talks
Starting with Research: Why Data-Driven Companies Build Better Products
On-Demand Webinar
When thinking of applying user research in design, it's common for marketers to focus on product usability, which is just the tip of the iceberg. Rather than trying to find a unicorn designer who can conduct thorough user research and then apply it to create a strong UX/UI, companies should be investing resources into building a research practice and conducting Qualitative Research sooner than later.
UX research expert Sara Hefny, Ph.D. dives deep into why investing in an experienced research team will help companies uncover the "why" behind their client's decision-making process, and the importance of using data to drive product-decision making.
In this webinar we cover:
Intro to Qualitative Research and why it's relevant for startups in growth mode
Why investing in an experienced Qualitative Researcher vs. relying on UX designers is worth it
How Qualitative Research is symbiotic to other types of research
Open Discussion/ Q&A with Next Step's Chief Behavioral Scientist, Brad Swain
Speakers:
Sara Hefny, Ph.D
UX Research Expert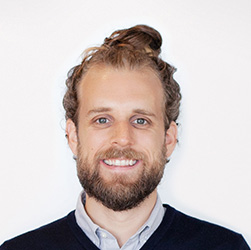 Brad Swain
Chief Behavioral Scientist
@ Next Step
About Dr. Hefny
Raised between Seattle, Washington and Alexandria, Egypt, Dr. Hefny has called multiple cities, countries, and continents home and brings an intrinsic talent for cooperation and building bridges to all areas of her work. Dr. Hefny has nearly a decade of mixed-methods research experience, across three continents and four languages. She trained as a sociocultural anthropologist and received her Ph.D. at Brown University in Providence, Rhode Island.
She is currently the lead researcher at Xapo and based in Rome, Italy. In addition to her work with user experience and product research, Dr. Hefny is requested speaker on qualitative research best practices, conducting research with international populations, working with vulnerable people, and transitioning from academia to industry.
About Brad Swain
Brad holds advanced degrees in Economics and Behavioral Economics from University of Rhode Island, Columbia University and University of Miami. His past experience includes working alongside famed Behavioral Economist Dan Ariely, helping organizations such as AARP, Lyft, The City of San Francisco, and many more. Brad is a featured speaker at The Society for Judgment and Decision Making and Society for the Advancement of Behavioral Economics.
When not working, he still likes to do research! He has worked with the Reducetarian Foundation to help encourage people to eat less meat, and The Think Tank to help accelerate diverse participation in STEM.