BLOG
Avoid this Common Conversion Killer.
Study after study shows that when you make things too complex, it makes people slow down and reassess. In fact, when things feel unfamiliar, it actually sets off a cognitive alarm and makes people take a closer, more critical look. The trouble is, jargon is so second nature that most companies don't even realize they're using it.
Psychology in marketing: how wording drives behavior
When crafting the messaging for East Side Union High School's job training program, we used phrasing and language that were familiar to the students. By eliminating "bureaucratese" and making the text feel like a conversation, we helped students imagine signing up and benefiting from these programs.
We literally chose each word with a very specific demographic in mind. It's not just polite, it's scientific: research repeatedly shows that it's easier for people to make a gut decision when there's less mental work. Behavioral scientists refer to this psychological phenomenon as "cognitive fluency".
Engineering Academy: Before (little Cognitive Fluency)
Highlights a strong academic core curriculum that integrates the theoretical principles of science and mathematics with the practical applications of industrial technology. Features exploratory topics in architectural, mechanical, electrical, structural, and civil engineering. Students also learn BIM design using Autodesk software and other 3D modeling software.
Engineering Academy: After (enhanced Cognitive Fluency)
Turn engineering theory into practice at Yerba Buena's Engineering Academy. We'll help you bring complex ideas to life while you learn engineering basics needed for various careers and college degrees within aerospace, computer science and engineering.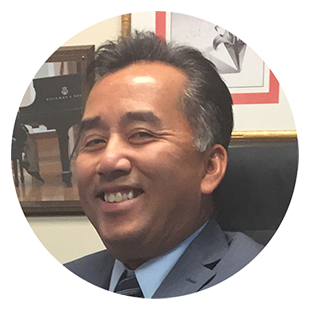 "At Magnet Night we saw a lot more interest and lot less blank stares. Unlike at previous events, the students weren't confused about the programs. It was great to see them getting excited about their future."
Tim Nguyen, Director of Career Services
Design impacts people's judgments and decisions.
It's not just language that makes it easier or harder for people to think about things. Your site's architecture has a huge impact on consumer behavior as well. When designing how you'll present information, your first priority needs to be making sure the user can find things quickly.
Case Study: re-imagining the user experience successfully reduces support calls.
Cal Water provides clean water to hundreds of communities across the U.S. Unfortunately, a murky design made it difficult for users to find what they needed. We applied the concept of "cognitive fluency" and created a more intuitive home page.
We started by interviewing their Customer Support. Once we realized that people were calling because they couldn't find basic information on the site, we made their top concerns the focal point of the home page. Now things like viewing a bill, or making a payment was only a click away.
We used contrast and color to draw the user's eyes to important sections and created a structure that made finding answers online easier than picking up the phone.
Before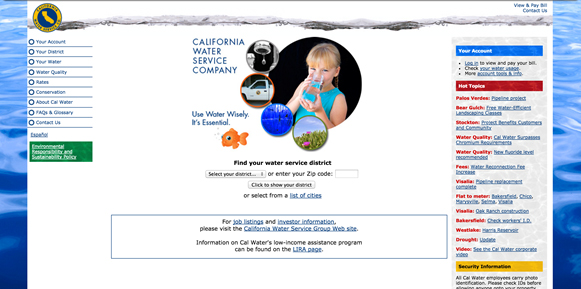 After